Lifestyles of the Rich and Famous Travel (on a budget)
We've been going to St. Barth's for the past few years on winter break and sometimes when I tell people we go there they gasp and say, "I would love to go there but I can't afford that." Or they mock me and say, "Aren't you fancy?" As if St. Barth's is reserved for jet setters with deep pockets. Guess what, I'm a VERY frugal traveler and I've been to St. Barth's 5 times.
People assume they can't afford places like St. Barth's because it has a long standing reputation for being a playground for glamorous people with boatloads (or yachts) of money. Because of the reputation of being pricey, people don't bother to consider it an option. I assumed I would never be able to afford St. Barth's versus other places, until I really started researching it. I started finding deals or off the beaten path places to stay that would allow me to be on St. Barth's for a couple hundred bucks a night and enjoy it as much as someone spending $1,200/night. When I really started pricing things, I realized I could do St. Barth's on a Florida budget.
Before you read on, I'm not saying a place like St. Barth's is a bargain vacation, but if you go with a balanced budget and are willing to stay in more moderate accommodations, you can save money to put toward the rather expensive food and drink there. It's totally possible.
I'm not sure any of my travel tips below are earth shattering, but I will tell you this: People see my vacation pics on social media and think I'm shelling out top dollar to be at the most exclusive places. Then I tell them where I stayed or what I paid and they are shocked and always give the resounding, "Wait, I could afford that." Yes, you can.
If you really want to go somewhere that you think is expensive, do the research before you rule it out. A lot of people rule out based on reputation or what they've heard others say. Below are examples of 3 of my favorite places to travel: St. Barth's, Anguilla and The Bahamas.
ACCOMODATION
If you're looking to save money when you travel, especially on beach vacations to places that have a reputation for being expensive, skip hotels. Look on AirBnB or VRBO to find an apartment or small house that has everything you are looking for. You can save 40% to 80% on lodging by not staying in a luxe hotel. This year we found a beautiful cottage in St. Barth's through VRBO for under $150/night. Hotels on St. Barth are normally $500-$1,500/night. The place had no reviews so I figured it was a scam. I messaged the owner and she explained that her husband, a well known architect, had built the cottage on their property for friends and family. After Hurricane Irma, so many hotels were out of commission, so they decided to open up their home to the VRBO market. I liked her energy so we took a chance on the cottage. It was beyond perfect. I almost regret blogging about it because it will probably be booked up next time we want to go! It's currently listed at $125 a night depending when you go. (You're welcome!) See pictures below of the cottage!
LIVE LIKE A LOCAL
Condos or cottages are great because they have a kitchen, which means you can make your own breakfast and sometimes lunch to pack with you for the beach or a hike. You can be self-sufficient rather than being in a hotel to rely on them for room service or to cater to you which runs up the bill. Then at night you can splurge on dinner. I'm not saying going to St. Barth is a bargain vacation -- but you can do it on a balanced budget. You cut the fat where you can (expensive hotel) and spend the savings elsewhere (like $40 entrees). Also, you can save even more money if you don't stay ocean front – sometimes renting a place that's a little more remote is a lot less money and it forces you to explore where you're staying. We used to stay at Salines Garden Cottages on St. Barth. It's a little out of the way and inland, but it was about $265/night. We took that money saved to rent a car; we explored and commuted to places we wanted to go. Now, we know the island like the back of our hand.
***Also, because places like St. Barth and Anguilla were badly hurt by the hurricanes this past fall, rates are lower. There is a lot of construction going on on the islands and some restaurants and shops might not be open -- but if you're willing to be flexible, you can get a deal. The Island locals are SO glad you came. Also, keep in mind that if you go to any of these places after April 15th, it's usually their "low" season and prices drop by about 30% to 40% for accommodation. So take your tax refund and go on holiday!
BE A COMMUTER AND SAVE $$$
I love spending time at the Four Seasons Ocean Club in the Bahamas. The average nightly rate is over $1,000. I would NEVER pay that rate. So I go Sivananda Ashram Yoga Retreat on the same Island. I stay in a tent and they provide all meals and yoga for $120 a day. It's a spiritual "all inclusive". After morning yoga I walk to the Ocean Club and spend the day on their beach among the fancy people, I treat myself to lunch and then at the end of the day I commute back to my tent for evening yoga and meditation. No one at the Ocean Club knows that! Of course, I post pictures of the Ocean Club on my Instagram and people assume I'm living it up in the Bahamas. This is what really goes down:
If you are willing to stay in places that cost less money, you can still have the same experiences as people staying in the hotels that cost hundreds of dollars more.
EXPERIENCE THE FINE RESORTS (without staying there):
We went to Anguilla in the Caribbean last year (also known for being expensive) and stayed in a beautiful VRBO condo that was next to Zemi Beach House, an $800/night hotel. I think we were paying $265/night at The Fountain Residences and it was a huge apartment with large living room, bathroom, bedroom and kitchen. There was a terrace that was as wide as the whole apartment and it had an ocean view. We stocked the fridge with drinks, snacks and food for breakfast. We would have our own cocktail hour and relax after the beach. The late afternoons at the condo were my favorite time of the day and that saved a lot of money.
Our condo building shared the beach with Zemi Beach House. There was literally a path to the same beach. We inquired about day passes or guest passes to Zemi because we wanted to spend time there. For around $70 each we bought a one week pass to their gym and spa, which also gave us access to their pool and discounts off spa treatments. So every day I'd go work out, relax in the Hamman spa and soak in the tranquility pool. It almost felt like I was staying there during the day and the staff treated us like one of their own. (Below are the girls from the Spa and then our favorite server Meli).
If there's a hotel or resort you want to hang out at, call the front desk and see what their policy is. Sometimes all you have to do is have lunch there or buy drinks by the pool and they will let you hang out on the property. This was the case at Zemi Beach. If we had lunch on the beach we could use their chairs and the service was awesome. The key is asking for what you want. Never assume that a hotel won't let you hang out there even if you're not a guest. Everyone wants to make money, so if you will buy some food, they may be happy to have you. While a lunch might be expensive, it's still lower than if you were actually staying there. Then you have the freedom to resort hop and try out different places. Below are pics of our Condo at Fountain Anguilla and then my escapades on Zemi Beach property! It was the best of both worlds!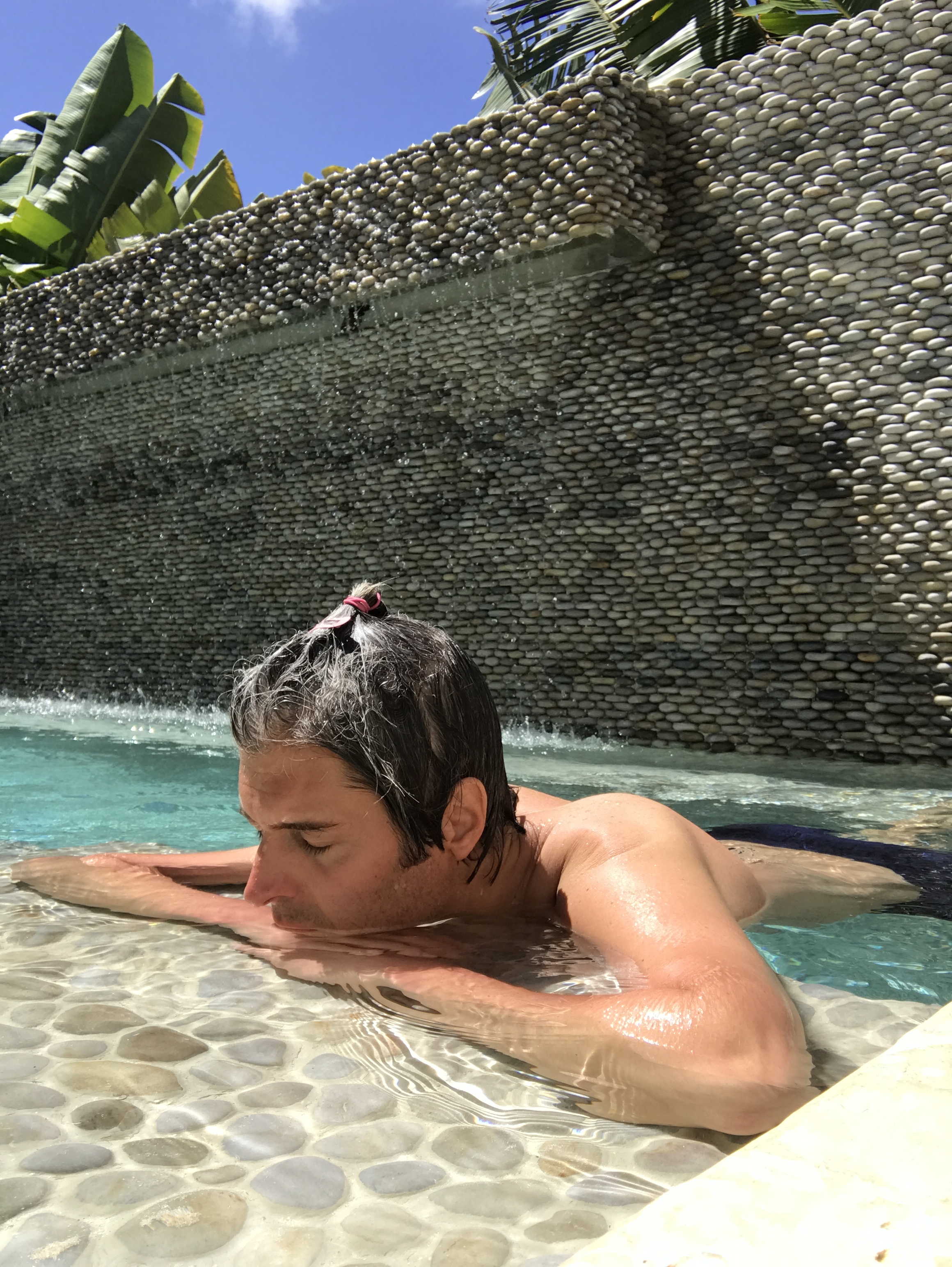 EXTRAS:
-Ask for upgrades, discounts or deals. I booked into a condo in Anguilla which was part of a resort. I booked the lowest grade room and a few days before I called to confirm the trip and then I very nicely told them how excited I was to go there and how easy they were making this experience of planning. Then I said, "If any upgrades become available, please think of me." Just ask nicely and unassumingly. When we checked in we went from a garden view to an ocean view. Free upgrade.
-Buy a raft and take it with you everywhere. You can go to the beach and if there are no chairs, you can lay on your raft on the sand or in the water. Deflate it and you can port it around really easily. I do this on every trip. I buy a $15 raft and it brings me so much joy. On St. Barth go to Hookipa Surf Shop -- they have rafts for sale and backpack chairs for rent!
-Most places like Anguilla and St. Barth have places where you can rent beach chairs or backpack chairs. This way you can go wherever you want and not feel restricted. Chair rental was like $40/week for 2 people. On St. Barth I love Hookipa Surf Shop! On Anguilla you can rent 2 beach chairs, a cooler and an umbrella for the week from Junie's Car Rental for about $50.
If you want any specific details or have questions, shoot me an e mail: doug@theworldofdoug.com!